Why Digital Marketing?
Marketing today is undergoing a paradigm shift – from traditionally being a 'pay to play' model where large companies could get away without actually engaging their clients. The true democratization of content and opinions started by the internet has been fast forwarded by the explosive growth of social media. This is the first time that smaller companies without the bottomless marketing budgets can actually look at going head to head with competitors. The traditional 'smoke and mirrors' approach will no longer work when consumers have access to both the media and the networks to make themselves heard.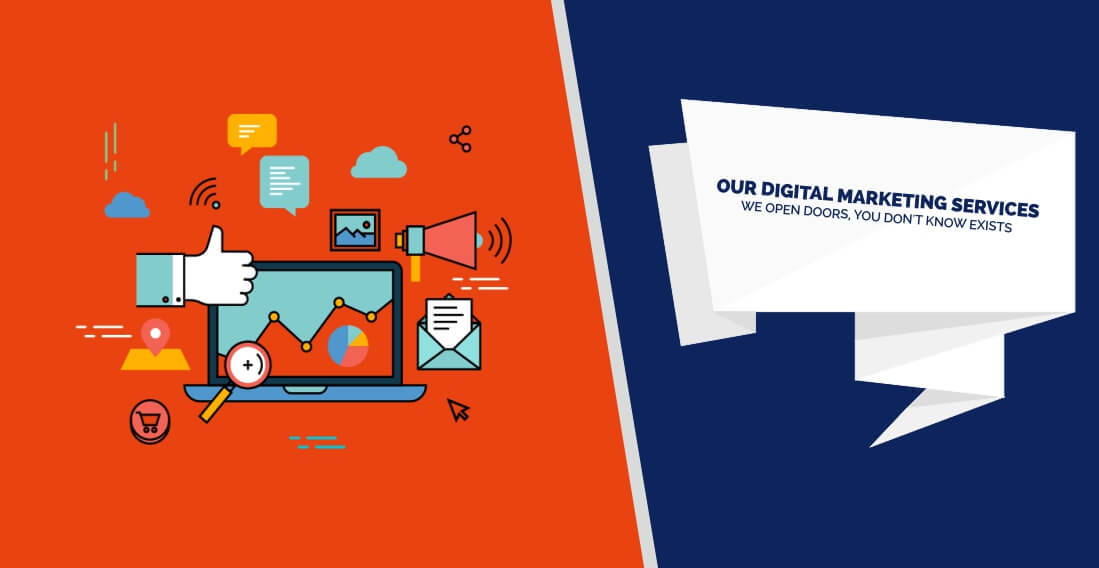 Sometime in the near future we'll access our TV, internet, phone, radio, music, photos, videos and more through a single appliance of our choice. The companies that understand this and the coming change in how people use technologies to gather information and make decisions will be the ones who succeed.
Digital Marketing Startegy
Social Media Marketing Services
Search Engine Optimization - SEO Services
Pay Per Click – PPC Services
Content Marketing
Digital marketing strategy is a subtle method. Ithelps a brand sneakinto the systems of the customers and become their favorite before they know it.
The process too is subtle. It requires patience. It is like dating, where you can't take your proposal ring position in the first meeting. You must develop the right interaction before you make the crucial call for action.So it is a journey from the first touch to the call-to-action. And between the two points lies the art of digital marketing.
Businesses, in a bid to engage customers, are rapidly adapting to every digital marketing channel available. A major advantage with the digital marketing strategy is that it rests on the precise choices of the consumers. You can view the consumers for what they are, and what brands they are interacting with.
We help companies strike a conversation with their target audience with a strong digital marketing strategy.We do this by gaining a clear sense of:
The company's objectives
The customer segment it is trying to serve
The values it stands for
Genuine digital marketing plans do not rely on luck. A marketer might get a few lifts here and there by throwing his net blindly. An effective digital marketing strategy has the potential to take a brand to the next level with a practical, actionable design.
Digital marketing is rapidly expandingby the day,bringing under it a wider arena. Your company must, therefore, create a digital marketing strategy that is flexible enough to connect quickly with the next big trend.To be able to target the right kind of audience, it is also essential that your company discovers the upcoming trends in real time, so you can device ingenious marketing strategies.
Creating a winning strategy
It is easier for a marketer to gather data, but understanding which data points are relevant is important.We, at Host-My-Panda, do not believe on random stakes when it comes to creating a digital marketing strategy. That is dangerous to a company's online reputation in the long term. And this wisdom comes through the years of experience we have got individually and as a team.
To benefit from newer opportunities floating on the digital space daily, a company needs a systematic digital penetration. Therefore, it is crucial to have a comprehensive digital marketing plan as the base, on which all the vital online marketing activities can be built up.
It is always the marketer with the best plan who wins. And the most important componentof a great digital marketing plan is a solid framework, which can help a brand communicate with its target audience seamlessly through various digital channels.
You need integrated efforts for the best results from digital marketing. The digital marketing strategy needs to be focused and aligned with the objectives. However, a constantly changing digital landscape makes this a tricky task. Therefore, a strong digital marketing strategy is one that is open to constant fine-tuning to see an increase in gains.
The key elements to consider when listening and observing, before formulating your digital engagement strategy are the type of consumer, or the section of the society that forms the consumer base. It is also important to learn the kind of things that influence your consumers which, in turn, depends on their locations.That will help you know currently which brands they have been associated with.
The next step is to find out how deep a brand can penetrate a particular consumer base, because that depends on their curiosity and inquisitiveness, and what their values are. Are they just observing or are willing to participate too? Watch out whether they are looking at committing to the brand; mark the factors which motivated them the most.
One of the best factors that influences a customer's decision to go for a brand is the volumes of sales.A company needs to regularly assess the buzz a specific product or its entire brand has created in the market. Similarly, it needs to ensure that the buzz is not hollow, and that it is creating newer brand advocates with each social media campaign. This requires a close watch on the general customerbehavior and sentiment; whether he is actively contributing to your cause, and if not, whether there is negative sentiment that is preventing him from doing so.
We consider each of these measures while creating a digital marketing strategy. It may seem like a lot of work, but our experience says that the longevity it brings is worth the effort.
Social media gives businesses a means to catch customers from where they are sitting right now.
It's the vital part of every digital marketing campaign, the flag bearer of your marketing goals. The social media marketing strategy of a brand goes a long way in determining its presence and reputation in the market, both online and offline.
Host-My-Panda, a social media marketing company, specialises in creating strategies which have brought mind-blowing results for its clients. Our team has hit the formulae behind planning and creating content that is perfectly shareable. We help your brand to be heard and shared by crafting a social media strategy that is made after an in-depth study of your product. This includes content that is tailored to help a brand draw maximum advantage on various platforms.
The expanse and influence of digital media grows by the day. And social media marketing services dominate a major part of this expanse. Looking at the explosion of newer media platforms, creating a result-oriented strategy to keep customers engaged is a whole new challenge for any social media marketing agency.
Several emerging social media platforms such as Facebook, Twitter, Instagram, Pinterest, LinkedIn, etc, have become an integral part of businesses' social existence. Nearly 11 hours of an average internet and smartphone user are spent online daily. Prospective customers wandering on the net for that long can be good news for brands, as that gives them ample scope to catch their attention and form a consumer base.
The Demand
The demand for social media marketing services is rising fast for two main reasons. First, because of its ease of access due to fast developing technology, and secondly because it isrelatively cost-effective than traditional advertising. Companies and even individuals today are leveraging social media marketing channels to both support and promote their activities.
For a brand, social media is the best way to engage with potential customers and directly initiate a two-way communication with them. If backed by the right social media marketing strategy, your followers can be successfully converted into loyal buyers; existing as well as prospective consumers can be educated about your products, also creating a human connect by exposing them to various other aspects of your business.
The Timing
The social media marketing strategy, to a large extent, relies on timing. A quick brilliant content piece in response to an event – social, financial, or political -- for instance. Your prompt and swift action on the social media will give you an edge over your competitors. Our social media experts keep a tab on what's trending on online platforms and make the most of every opportunity to leave an impact.
Consumers' decision-making process today gets hugely influenced by social media. Brands are, therefore, looking at capitalizing on social media marketing services big time. Host-My-Panda processes ensurethat your brand's name blends with the content in your user's news feed seamlessly. The platforms where your TG frequents are prioritized so that the TG could be supplied with content that they would happily share with their friends. Our teams then track the number of shares and perform a detailed analysis of the social interaction using SEO services.
Social media is certainly redefining the online marketing landscape. To leverage this reality, our social media experts build a campaign that aligns with your business objectives. To get your business the attention it deserves, Host-My-Panda offers the following social media marketing services.
Social postings for all social media platforms
Social seeding
Sponsored posts
Like campaigns
Live tweeting
Video promotions
Host-My-Panda takes pride in its ability to establishrelationships across various media channels with effective communication. Involve us in your marketing efforts and see a social media marketing strategy that generates persuasive brand awareness and directs traffic to your website. Get in touch with us today!
A large number of agencies are now opting for Search Engine Optimization - SEO services as businesses are slowly but steadily moving to digital and the traditional idiom 'out of sight, out of mind' holds true even today.
SEO helps you to connect with the right audience at the right time by organically leveraging your website's visibility to the people who are looking for your product or service via search engines. SEO is a vital component of a broader umbrella of services offered under Search Engine Marketing (SEM).
Whether you are targeting your services in India or global, as a general rule of thumb, the websites that appear at the top of search results will gain better traffic to their pages, which can later be turned into potential business opportunities.
Take for instance Google, the search engine giant. Google has developed automatic algorithms that have helped in providing quality results to its users and eventually rank a website having useful and authoritative content. It has come a long way from its Humming Bird algorithm update which was originally introduced for voice search and long tail keywords restricted to improving the indexing of information. The latest Pigeon update focused on improving the rankings of locally listed websites in the search results. Likewise, earlier with its Panda and Penguin updates, Google prohibited low quality websites and/or pages from performing well in the search engine results page (SERP) and lowered the rankings of websites that infringed Google's Webmaster Guidelines respectively.
These algorithms consist of "spiders" or "crawlers" which crawl and index your website and eventually evaluate it for over 200 SEO indicators that help in defining whether your website is valuable or worthless. Our webmasters excel in the art of making sure not only these spiders but more importantly the visitors are pleased with what they discover on your website. SEO experts at Host-My-Panda understand the importance of crafting a structured data plan with rich snippets that help in boosting click-through rates on your Google listings and thus optimize your digital presence.
Are you a brand looking for optimal results through your Digital Marketing campaign but unaware of PPC jargons like Cost Per Impression, Cost Per Click (CPC), CPM, etc? We are here to make you understand the difference between Facebook PPC ads, LinkedIn PPC ads and Google PPC ads; leveraging your presence on which platforms will add more value to your business and why.
We are focused on making you understand the importance of PPC for your business. Based in India, Host is a full service creative agency that offers complete Pay Per Click (PPC) management services combined with ongoing optimization of Pay Per Click campaigns. If you have a basic idea of what you want, we help you turn that idea into an idea that can generate money. We understand that success in internet marketing is not a cake walk and requires a lot of patience. Through our detailed research and analysis, we also help you in retargeting a potential customer through multi-medium advertising and paid marketing.
Our clientele is a mix of startups with ambitious growth plans and Fortune 500 companies. Our certified professionals not only work on search but also on diverse social media platforms to create a long lasting impression of your brand on your target audience. We deliver reliable B2B and B2C leads from across geographies and multiple target locations. We love what we do and hence we are sure to boost your sales with our undying efforts and exclusive PPC expertise.
Our Pay Per Click – PPC services include -
Google Adwords -

Boost Website traffic, get leads with Google AdWords ads (Sponsored Links section above/next to search results page)

Banner ads -

Image based ads or Rectangular Banner ads placed on Website's main content

Landing Pages -

Creative web pages designed specially for capturing leads

Facebook, Twitter and LinkedIn ads -

Exploring various advertising options (text ads, image ads, video ads, sponsored posts/tweets etc.) on social networks

Retargeting and Remarketing -

Re-target or Re-market the users who have visited your website/blog earlier but have not taken any action. Don't miss these potential leads!

Media buying -

Ensure where and when your advertisements need to be displayed with optimum reach and returns

Google Products Listing -

Highlight and list your company's products on Google Product Listing Ads.
In today's cluttered web domain, content is one thing that can make you stand out.
To make an impact, it's important to share knowledge, trivia, best practices, and other useful content with your customers. You must refrain from focusing on a one-sided sales pitch; and develop a content strategy to give your customers the information they are looking for. Because if you don't; someone else will!
Content marketing acts as a non-intrusive marketing technique that involves creating content that is relevant to your business as well as customers.
Differentiated content in the form of blogs, articles, graphics, case studies or even carefully grafted details about the company, its founders and philosophy can help potential customers connect with a brand. It also helps your rankings on search engines like Google, Bing, etc besides reach on social media like Facebook, all of whom focus on delivering fresh and relevant data to its users. Also, if the content clicks a chord with the users, they are more likely to share and talk about your brand.